UbuntuKylin participated in 2013 China National Computer Conference and delivered a keynote speech in open source software forum
October 24, 2013, Ubuntu Kylin development team leader Mr. Jack Yu was invited to open source software Forum 2013 China National Computer Conference, to deliver a report entitled with "next-generation Linux desktop environment Unity Next". Reports for comparison with a variety of Linux graphical desktop environment and introduce architecture and characteristic of Unity Next s; analysis as a new generation its strengths and weaknesses of Linux graphical desktop environment.Finally introduce development and real situation of Unity Next and prospects its development.
Jack preparing to give report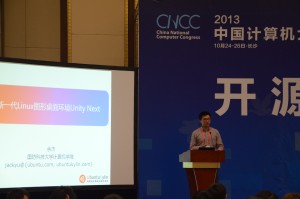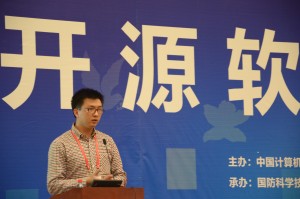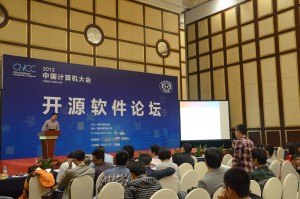 There has Huawei department engineer Xiaowei Yang 、 ARM chief software engineer Jiangning Liu、Intel China's chief engineer Yaozu Dong 、watercress Technical Director Xu Yan、Disney's chief software designer Stanley B.Lippman and Taobao core system manager Wensong, Zhang made report on this forum conference and host by forum hosted by Huawei Central Research Institute chief software engineer Gegan .
Meanwhile, Ubuntu Kylin was also invited to perform live shows, and make explanations, deliver system CD and brochure
Robert make introduce to guests.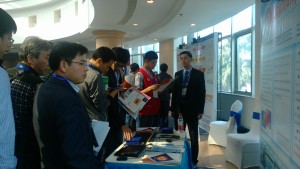 Bunny make introduce to guests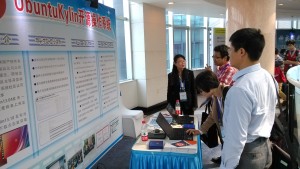 Background Information: China National Computer Conference
China National Computer Conference is the largest, the highest academic standard technology conference, Technology Conference organized by the China Computer Federation (CCF), founded in 2003, once a year. Unlike most academic conferences, CNCC is a high-end and professional content-rich conference which invites global and domestic experts attend , including the Turing Award winner, academicians, famous entrepreneurs, CNCC has been successfully held nine times. 2013 China National Computer Conference (CCF China National Computer Congress, CNCC) will be held in Changsha, October 24 - 26, 2013. This time CNCC as "data space, flying dream" theme, discuss large data research problems and facing challenges (official website: http://cncc.ccf.org.cn/)