Ubuntu Kylin 22.04 LTS officially released - UKUI 3.1 starts a new experience!
On April 22, 2022, the Ubuntu Kylin team officially released the new version 22.04 LTS.22.04 is the fifth Long Term Support (LTS) release after 14.04, 16.04, 18.04 and 20.04, and will officially provide technical support for 3 years.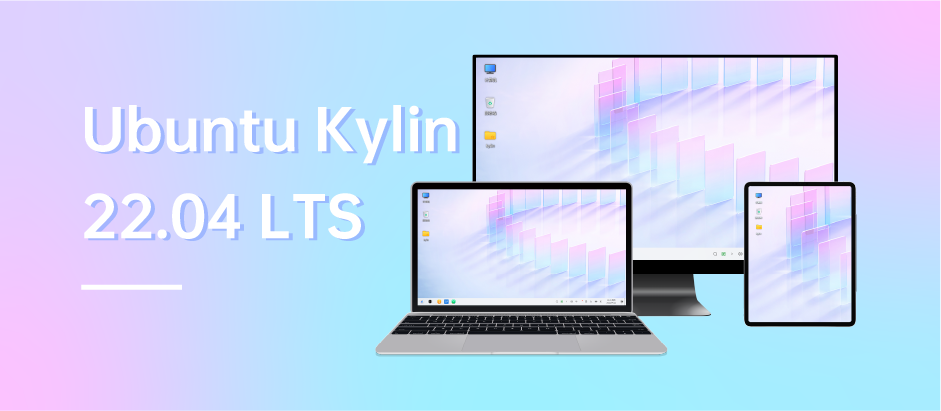 Compared with the previous version, this updated version adds new functions such as displaying remaining charging time, complex touch gestures and operation animation teaching, system light mode setting, WeChat online login and support for opening personal hotspots.Further optimized the display form of the taskbar area, taskbar startup time, notification popup animation and file manager sidebar level, and fixed known issues such as Ctrl+Q not being able to close the music program, and the risk of memory leaks in kylin-burner.
Adhering to all user-oriented concepts, Ubuntu Kylin continues to optimize the interactive experience and system stability.The 22.04 LTS version is equipped with the Linux 5.15 LTS kernel and the new UKUI 3.1 desktop environment by default.
The latest Linux 5.15 LTS kernel - Higher compatibility and more stability
Some important updates:
Improved NTFS file system support

New SMB3 file server (KSBMD)

Added temperature monitoring support for AMD Zen 3 based APUs.

ASUS ACPI platform profile support

Improved support for Intel 12th Gen CPUs.

Merged Realtek RTL8188EU WiFi driver to replace previous Realtek WiFi driver.



New UKUI 3.1 desktop environment
UKUI 3.1 is based on the theme of "light seeking", introduces the design concepts of "large rounded corners" and "light and shadow transformation", which are fashionable and technological, and enables a new logo design to make the system more personalized and tasteful. In addition to the theme update, the new UKUI 3.1 has also upgraded and optimized the system interaction experience, making your overall operation more comfortable, simple and free, bringing you a new experience!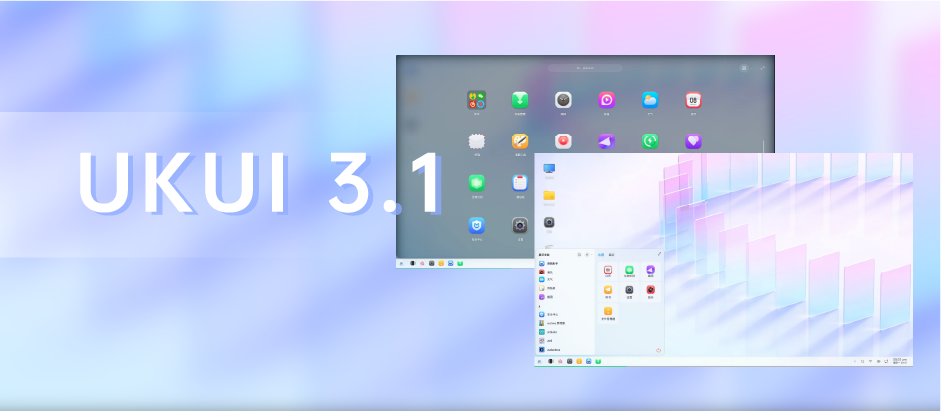 Comprehensive upgrade of self-developed applications
In the 22.04 LTS version system released this time, more than ten self-developed applications such as kylin-calculator, kylin-screenshot, kylin-video, kylin-recording, and kylin-camera have been fully upgraded, which not only enriched the application functions, but also improved Existing functions and components have been optimized to further enhance your experience.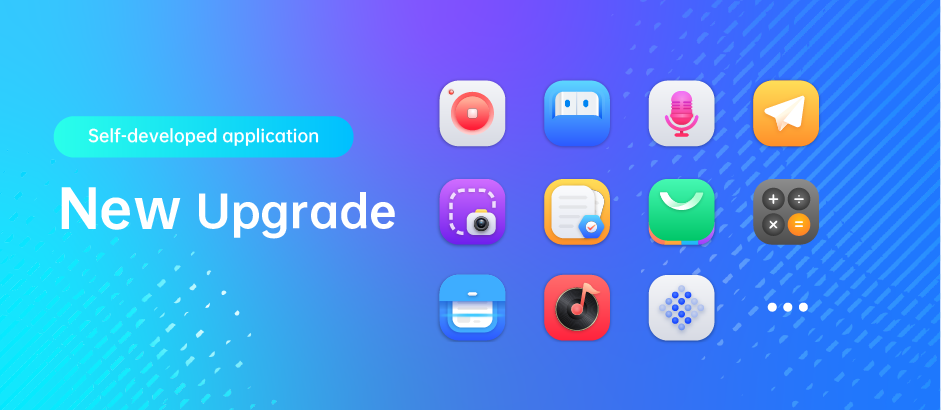 Installation method
At present, Ubuntu Kylin users and other Linux enthusiasts can download and install the Ubuntu Kylin 22.04 LTS version online through Ubuntu Kylin official website or the mirror site .

website:https://www.ubuntukylin.com/downloads/download-en.html
Users who have installed the official version of 20.04 Pro SP1 can update to the 22.04 LTS version by the following methods:
● Open the terminal and enter the following command:
$ sudo apt update
$ sudo apt upgrade
$ sudo do-release-upgrade --allow-third-party -d
Notice:
1. Cross-version upgrade, due to changes in the underlying library, some applications may not be able to open and other unknown problems;
2. During the upgrade process, there are places that need to be selected. Unless there are special needs, generally press Enter.
System function improvement and BUG repair log
Desktop environment changes
Start Menu
● Added app collection function
● Added recent file module, which can quickly open recently edited documents
● Support to hide the specific calling method of the data upload interface, expose the interface to limit the access of specified applications, and increase system security
● Optimized the animation of sorting category switching and zooming into full-screen menu operation
Power Management
● Added battery balancing mode strategy
● Added function to display remaining charging time
● Added the function of automatically turning on the energy saving mode when the battery is low or battery state
● Added extremely low battery protection behavior to ensure that users are prompted to charge when the battery is extremely low
● Support the function of changing the battery policy by dragging conveniently on the tray interface
● Support custom switching power supply battery performance, balance, energy saving three strategy modes
● Support custom low battery
Sidebar
● Support common functions for quick operation, such as screen projection, Bluetooth, brightness adjustment, etc.
● Optimize the interaction effect of delete notification
● Optimize the notification center logic, and store all unseen messages in the sidebar
Taskbar
● Added three-state controls to open the application area and tray area
● Support any drag and drop icon position
● Optimize the user's sense of asynchrony due to switching, and adopt a new unified interface interaction mode
● Optimize taskbar startup time
● Optimize the use of the taskbar area and adopt a new two-in-one display form
Notification
● Added notification protocol configuration, supports custom notification message residence, residence time, close message and other functions
● Support the function of clicking on the message to jump to the application interface in real time;
● Optimize the notification pop-up window, and enter the sidebar after the timeout disappears for easy viewing
● Optimize notification popup animation
Search
● Added the function of searching the content of the notebook
● Support keyboard operation search results
● Optimize the memory usage of file index, the peak value does not exceed 500m
● Optimize disk io usage, increase buffer queue and merge processing through inotify signal
User Provisioning Service (USD)
● Support theme switching
● Support frosted glass display effect
Network
● Added agent function to realize user isolation;
● Added multi-NIC option to support wired multi-NIC management
● Added the function of creating wireless hotspots, supporting 4G and 5G;
● Added network configuration details page to support users to create new configurations directly
● Added support for ttls type enterprise network
● Support to turn off/on the wired network card;
● Optimized wired list sorting to improve performance
Touch Screen Solution
● Added complex touch operation animation demonstration function
● Added two-finger continuous scrolling list and page function
● Add four-finger to open global search and switch between application windows
● Added "More Gestures" function, which supports users to quickly query all touch gestures in the system
● Support single-finger operation to call out the sidebar, display all task windows and other scene functions
Multitasking View
● Support to create/delete workspace
● Support the free movement of application windows to various workspaces
Control Panel
● Added system light mode setting
● In multi-screen scenarios, intelligently detect and prompt the current display type
● Support to modify the computer name
● Support to modify user nickname
● Support multiple login options, add biometric authentication
● Support the free switching of three system themes of Basic, Kaidian, and Heyin
● Support custom screensaver
● Support custom desktop background display mode
● Support custom settings for apt proxy service and port
● Optimize the abnormal prompt copy and display effect
Bluetooth
● Added multi-file transfer function
● Added Bluetooth device classification function
● Realize the functions of Bluetooth tray, Bluetooth setting and service stripping, which improves the fluency and stability of Bluetooth usage
Log in
● Added network configuration function
● Added scan code login function
● Realize unified authentication functions such as face, fingerprint and fingerprint reader
Lock Screen Saver
● Support second-level login, quickly enter the desktop environment
Biometric Management
● Added biometric application scope, such as login, authorization, etc.
Authorize
● Added biometrics, QR code authorization
System Monitor
● Added application process classification
● Added service program list
● Real-time display of processor, network speed
User Manual
● Added application manual search function
● Support control panel secondary module jump
● Optimize homepage application classification
Peony
● Added large file deletion policy, files larger than 10G are only permanently deleted
● Optimized sidebar hierarchy
Theme
● Implemented the third set of Japanese style icon themes
● Realize cursor following zoom in high resolution
Session Manager
● Added system monitor quick entry;
● Support user switching function to distinguish single/multi-user scenarios
Theme Frame
● Added the function of freely switching themes in application three-state
● Realize the development of new palette interface for platform theme
● Realize the reconstruction and development of all basic controls in UKUI 3.1
● Fixed the right angle problem of all controls
(Tray) U Disk Tool
● Adapt to UI theme color matching
● Optimized device information acquisition and hot-plug message notification display
Alarm clock
● Added one-key mute function
● Added the function of setting an alarm to remind later
● Added mini countdown window
● Added the function of marking the longest and shortest count interval
● Support the right-click editing function of the alarm clock item
● Support custom ringtones
● Optimize the editing of the zoomed alarm clock time, and set the font of the time wheel for the countdown
● Optimize the countdown running UI to improve user interaction experience
Application software changes
kylin-weather
● Added the judgment of "whether to allow positioning"
● Added background color adjustment function
● Optimize the style of the search drop-down box
● Optimized the display layout of the main page
kylin-burner
● Fixed possible bugs when dragging and dropping files into the software
● Fixed a known memory leak issue inside the software
● Updated the pictures and corresponding explanations in the user manual
kylin-calculator
● Added system conversion function
kylin-ipmsg
● Added friend & chat content search function
kylin-photo-viewer
● Added a sidebar that can be hidden on the left
● Added crop function
● Added save as function
● Support image renaming
● Support for in-app printing
● Support exr, psd, jfi format pictures
kylin-printer
● Support printer property setting and uninstall printer
● Support printer manual, automatic adaptation, driver download
kylin-recorder
● Added audio trimming function
● Support recording system sound
● Optimized the menu bar prompt information
kylin-scanner
● Solved some adaptation issues
kylin-screenshot
● Add the linkage of the message pop-up box
● Optimize the function of drawing tools
kylin-software-center
● Added functions to delete self-evaluation and main menu settings (complete background automatic application update and allow application update notification).
● Increase the number of software pictures displayed to display software content from multiple angles.
● Support the search box to clear all contents with one click.
● Optimize the content and layout adjustment of the software details page.
● Optimize the application update module, and display the number of software to be updated by default.
kylin-usb-creator
● Added the right-click image file to open the U disk launcher
● Updated user manual
kylin-video
● Adapt to high version qt
kylin-camera
● Added Gridlines feature
● Added continuous shooting function
● Optimized menu bar style
● Optimized setting popup style
● Optimized the style of opening the historical portal
kylin-music
● Fixed that Ctrl+Q could not close the music program
● Fixed that when playing music and entering S4, the sound will continue to play for 1-2S after the monitor goes black
● Fixed the probability of crashing when right-clicking the currently playing concert
● Fixed taglib version dependency problem