Ubuntu Kylin 17.04 and YHKylin OS community version are released
GMT +8, 13th, April, 2017, the official version of Ubuntu 17.04 is released. In the same time,we are glad to announce the Release of Ubuntu Kylin 17.04 (codename ZestyZapus), and in this release, except the updating of system kernel/ customized applications and joint softwares, the most worth expected part is that we launch the new desktop environment — UKUI, which provides a simpler and more enjoyable experience for browsing, searching, and managing your computer.
UKUI is a customized desktop based on Mate, developed by GTK and Qt, which can be utilized on Linux and other Unix distribution. It is redesigning and realizing brand new start menu, control panel, desktop task bar, desktop theme and icons to allow users to use system more easily and quickly, especially for those users who used to using Windows Operating System. Its main features include:
(1) Simple and familiar desktop environment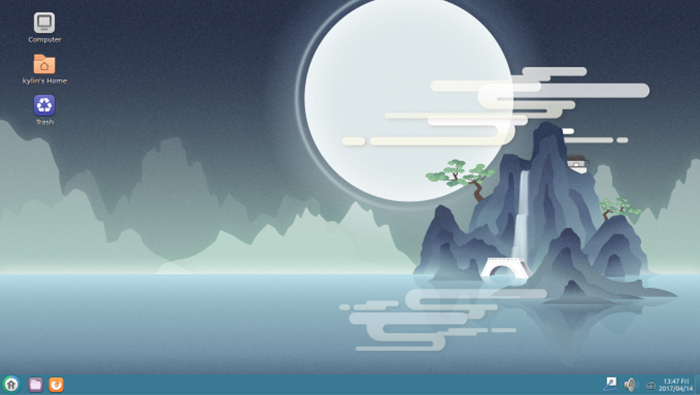 (2) A quick start menu and taskbar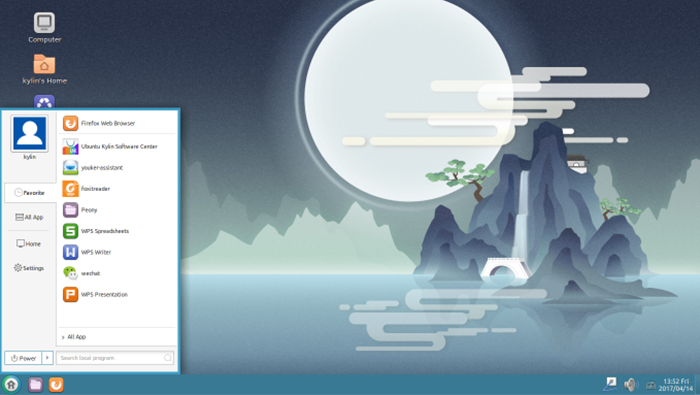 In the new start menu, a two-column design makes the content of menu more clear. File manager, All app, Favorite and Settings included in the left side of the start menu. The right side shows the corresponding applications or file list. Plus, unified icon form and color scheme shape an artistic interface style. A simple and intuitive interface adapted to the habit of users pretty well, especially the layout of poweroff and System Settings.
Taskbar supports a standard plugin interface, which makes the tray program surface can beunified with the interface, therefore achieve a quicker and more convenient switch, startup, merge and suspension tips for applications.
(3)Easy-to-operate control panel
As the key of system managing, control panel shows function menu in category form. Frequently used functions are classified in every category according to user habit. What is more, supports multiple way to search functions.
(4)Extensive file manager
File manager contains all operations for files, such as switching directories,quick searching, previewing directory, etc. In the same time, frequently used operations are placed in most easily accessed position.
In Linux kernel, this release is based on 4.10 linux kernel. prominent features:
Virtual GPU support, Intel GVT-g for KVM (a.k.a. KVMGT)

New 'perf c2c' tool, for cacheline contention analysis

Detailed history of scheduling events with perf sched timehist

Improved writeback management

Hybrid block polling

Better support for ARM devices such as Nexus 5 & 6 or Allwinner A64

Allow attaching eBPF programs to cgroups

Experimental MD raid5 writeback cache and FAILFAST support

Support for Intel Cache Allocation Technology
For feature apps, Youker series applications all updated to the newest version, solved problems most concerned by users.
Ubuntu Kylin Software Center
Added support in multi-screen.

Fix the bug that can't be closed when apt-daemon exit.

Improve uksc self update.
Youker Assistant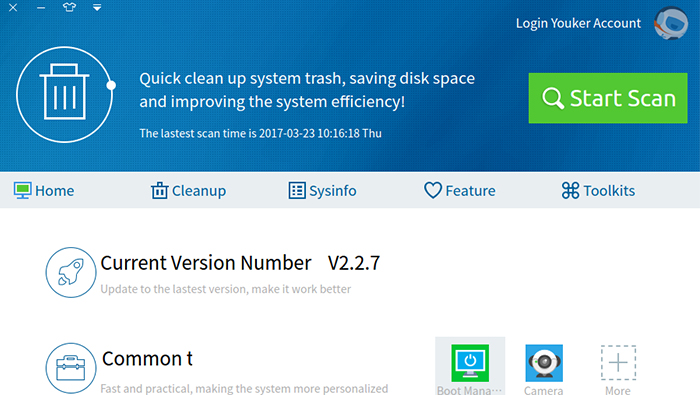 Set launcher position.

Multi screen display support.

Display virtual network card info.

Display right network info.
In commercial applications, former joint apps all updated to a new version. A brand new pdf reader -- Wendu Foxit Reader added in our system.
Sougou Pinyin
Sogou Input Method for Linux is co-developed by Ubuntu Kylin team and Sogou Corp., which has functions such as intelligent pinyin, automated matching and diverse skin support. This release version is 2.1.0.0086:
Fix randomly crash for Shuangpin setting

Fix updating popular network words crash problem

Fix some system can not be updated by source problem
Kingsoft WPS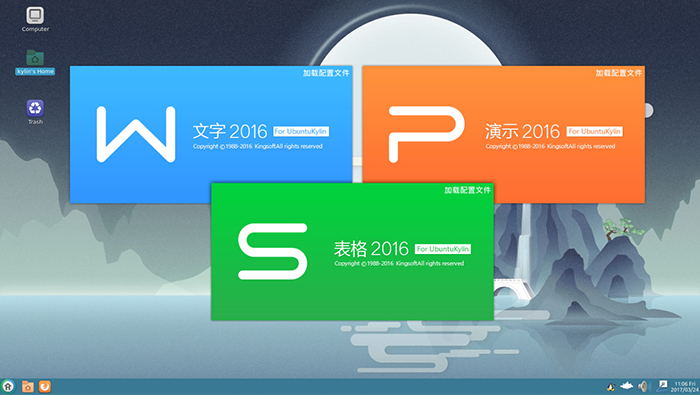 WPS is a world leading processing tools, compatible with Microsoft Office file formats, has powerful typesetting features and extensive online resources. Ubuntu kylin team continues working with Kingsoft company to offer free WPS for Ubuntu Kylin users. In this release, we fixed several bugs reported by users, media playing function upgraded as well.
Wendu Foxit Reader
Wendun Foxit Reader is a PDF viewer based on Linux version of Foxit Reader. For Chinese users, it is easier to install and utilize. In Wendun Foxit Reader, not only PDF viewing is supported, but also bookmark, comment, print, etc.
This time, with the release of Ubuntu Kylin 17.04, YHKylin OS community version also introduced to the public. YHKylin OS community version is based on Ubuntu Kylin 16.04, integrated UKUI desktop environment and several third party applications. We will offer a long term and stable support for YHKylin OS, it can be perfectly utilized in daily office work. Desktop and Server distros of YHKylin OS community version are released on Ubuntu Kylin Official Website synchronously, you are welcomed to download and utilize.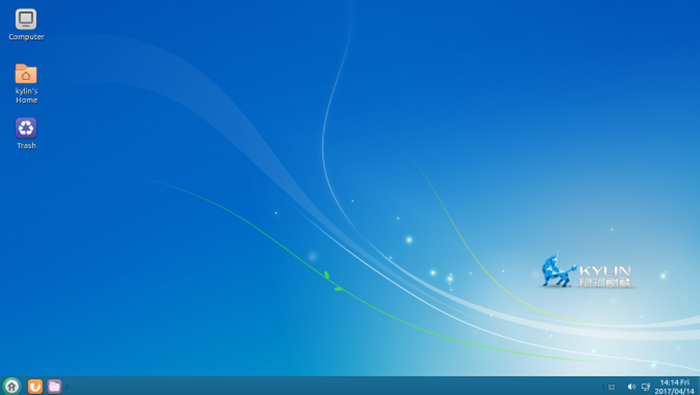 Download:http://www.ubuntukylin.com/downloads/show.php?lang=en&id=122