[News]Youker Assistant V0.3.1 version was released today
After UK team nearly two months to develop and perfect, youker assistant software V0.3.1 version was released today,, welcome youkers to download and give us valuable suggestions. Relative to the 0.2.1 version, this version improves system stability and enhanced ease of use, and added several new features. The main improvements are as follows:
Complete garbage clean-up operation, will scan and clean in two stages;

Increase the Task Manager tool, users can view the process is running, also can easily end the process;

Increase chromium browser's cookies and clean up

Increase system hardware information display;

Increase support for the English version;

All systems landscaping features are added to restore the default function;

use a common memory occupancy rate calculation;

Network traffic to refresh every second, more precise values​;

Software logo evolved into a lovely image of U;

repaired more than 10 known Bugs.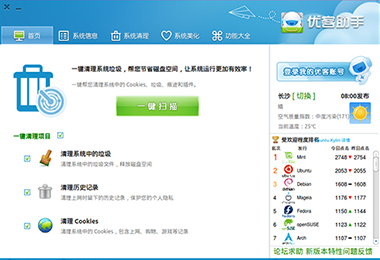 Users can download from following website:
http://www.ubuntukylin.com/applications/showimg.php?lang=cn&id=14