Ubuntu Kylin:Please check your 2021 keywords
2021 has passed, and we are about to usher in a brand new 2022.In the past year, thank you for accompany us through all kinds of ups and downs, and it is because of everyone's silent support that Ubuntu Kylin can get better and better.Here I have sorted out the keywords that belong to Ubuntu Kylin in 2021, let's take a look~
Growth
staggering forward, staggeringly strong
Maybe Ubuntu Kylin is not perfect now, but we always grow to maturity slowly.Up to now, the Ubuntu Kylin community has released 18 versions, downloaded more than 38 million times, contributed millions of lines of code to the open source community, and has hundreds of thousands of active users worldwide.
In 2021, Ubuntu Kylin released two official versions of 20.04 LTS Pro and 20.04 Pro SP1 and two updated versions of 0528 and 0620.Added support for RISC-V architecture,UKUI is included in openSUSE and Gentoo community warehouse income, becoming one of its optional desktop environments.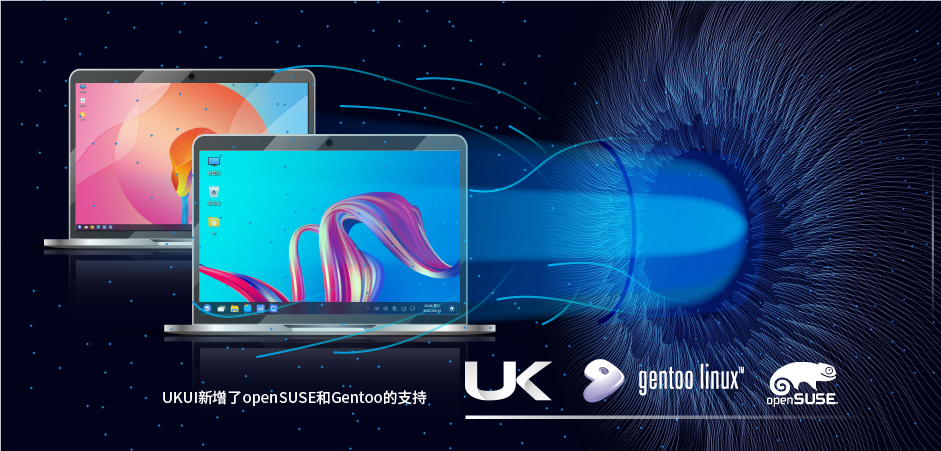 Comprehensively improve system stability and security, and provide users with a more efficient and convenient experience.Behind each new version, there are ardent expectations and full sincerity of Ubuntu Kylin. We hope that every update will bring you a different experience.
Passion
We haven't seen the boundary of the universe, so there is no reason to give up pursuing dreams!
The development and improvement of the operating system is a process that requires long-term investment, but in this long process, you have been lovely and quietly contributing to accompany Ubuntu Kylin through a long road.
Ubuntu Kylin community held 18 different kinds of activities in 2021, including Kylin Cup Software Competition,Linux Open Source Ecological Application Salon,KMRE Experience Activities, etc.,And participated in 8 influential open source activities at home and abroad, including LAS 2021,Dev-Eco Summit China、UbuCon Asia 2021、The 19th Northeast Asia OSS Promotion Forum 2021, etc.,The community activities throughout the year cover 6 cities and reach 35 colleges and universities, so that more people can understand and participate in the daily construction of Ukylin community.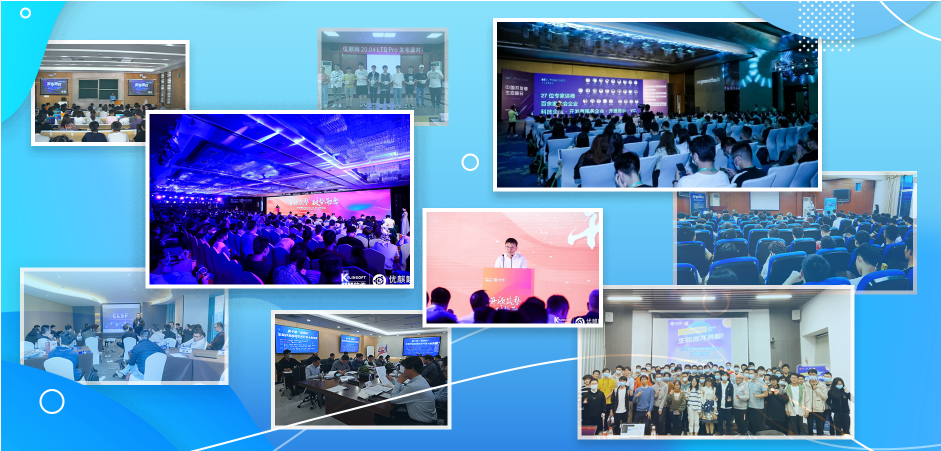 Original Intention
Never forget why you started, and your mission can be accomplished
The goal of Ubuntu Kylin is to be the world's leading open source operating system, so that the world can see the power of China's operating system.In 2021, on the development road of Ubuntu Kylin, we have also gained a lot of recognition from all walks of life.Passed the Trusted Open Source Project evaluation and certification of China Academy of Information and Communications Technology, and was awarded the Outstanding Open Source Innovative Enterprise issued by China Open Source Cloud League and the OSCHINA Outstanding Technical Team certificate issued by Open Source China.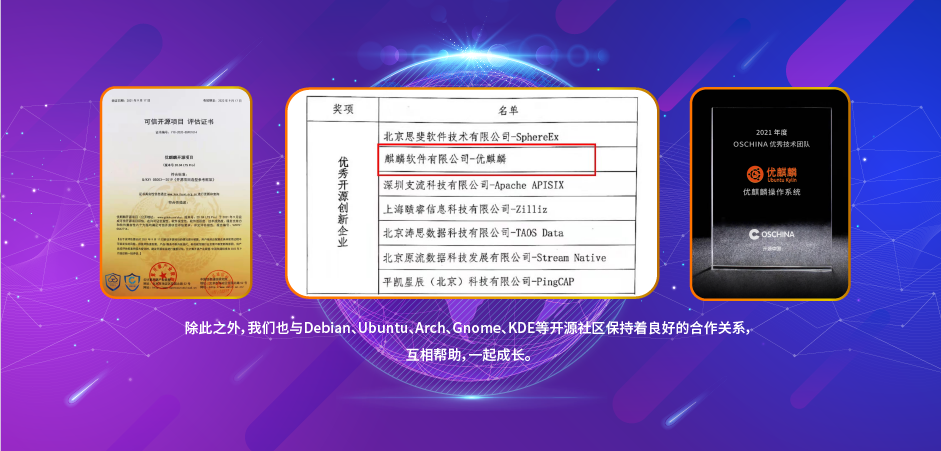 In addition, the Ubuntu Kylin community also maintains a good cooperative relationship with open source communities such as Debian, Ubuntu, Arch, Gnome, KDE, etc., to help each other and grow together.
Accumulation
Rome was not built in one day
Ubuntu Kylin official website and Forum upgrade in 2021. On the basis of the original content, the new version of the official website has re-planned the layout, and Ubuntu Kylin official website is designed based on the main color of the brand, with a simple but not easy blue style and responsive interactive layout, allowing enthusiasts to enjoy the ultimate visual experience while browsing the official website content.At the same time,we have also launched the Ubuntu Kylin document platform, so that every trace of your contribution can be followed, and every time you learn, there are enough materials to support.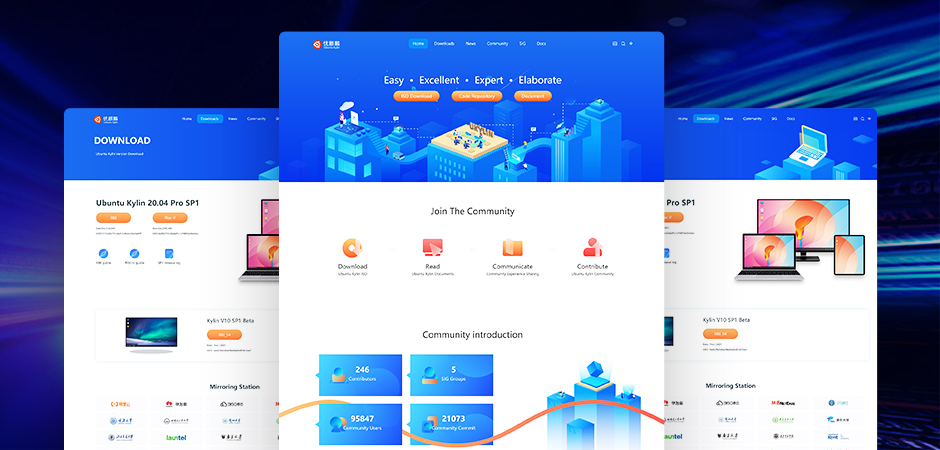 Ubuntu Kylin Community has released a total of 152 news throughout the year, in addition to version releases and event news, it also includes the sharing of technical difficulties for old users, as well as the sharing of technical articles for novice science article series, so that everyone can find the content they need.
In 2021, Ubuntu Kylin added 5 open source image stations such as Russian KUMI, Beijing Foreign Studies University,Chongqing University of Posts and Telecommunications,Shanghai Jiao Tong University, Dongguan Institute of Technology, etc., Ubuntu Kylin entered the Russian state for the first time.
We believe that the accumulation of quantitative changes produces qualitative changes, and under the accumulation of Ubuntu Kylin bit by bit, it can eventually bring a qualitative leap to Ubuntu Kylin.
Expectations
Dream as horse; act your glorious youth
2022 is coming, although the development of the operating system is still very long, but you Qilin does not advance at a high speed, but seeks to make progress everyday. we look forward to our future as wide as ocean, great and grand. Ubuntu Kylin will be full of expectations for the future, hand in hand with everyone, step by step to the goal of leaping forward!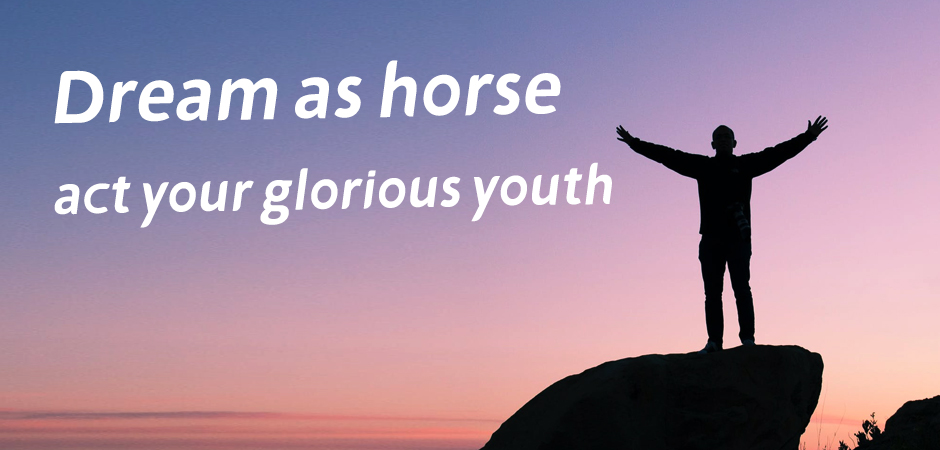 Thanks all the community and media partners for your support of Ubuntu Kylin;Thank you to all of you who actively participated in Ubuntu Kylin activities and made outstanding contributions to Ubuntu Kylin;The development of Ubuntu Kylin is inseparable from your efforts.
Thanks to all the friends who love and support Ubuntu Kylin!