Ubuntu Kylin invited to 15th China Strait Project Achievement Fair
On June 18-21, 2017, the 15th China Strait Project Achievement Fair is held by 17 units including the Ministry of Science and Technology and the Ministry of Education and organized by Fujian Provincial Development and Reform Commission in Fuzhou. The exhibition of innovation-driven, transformation and upgrade is a large platform for Fujian Province to build a broad platform to absorb the achievements of domestic and foreign innovations and technologies in connecting with Fujian enterprises and accelerating the localization of scientific and technological achievements. Ubuntu Kylin open source operating system, LF UAV and low-speed magnetic transportation system on behalf of the NUDT are invited to participate in the exhibition in which Ubuntu Kylin is the only one open-source project, receiving the high concern of the Ministry of Education, NDRC, Fujian Province leaders at all levels and related colleges and universities.
Since April 2013, Ubuntu Kylin open source operating system has released nine versions (including two long-term support versions of 14.04 and 16.04). And the official website downloads has been more than 13 million hits. The UKUI desktop environment introduced by the development team adopts lightweight component technology and has been installed by default since 17.04. It is widely recognized by Linux developers and enthusiasts at home and abroad. Default application software includes Sogou input method, Youker Assitant and so on. Currently, the development team is actively developing Ubuntu Kylin 17.10 and 18.04.

Li Zhimin, Director of Technology Development Center, Ministry of Education is visiting Ubuntu Kylin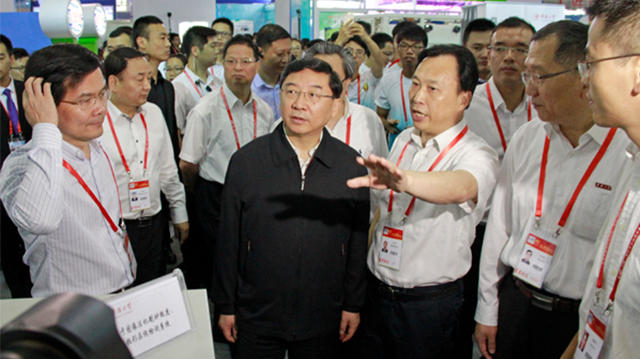 Yu Weiguo, Governor of Fujian Provincial People's Government is visiting Ubuntu Kylin