Everyone!The new version of Ubuntu Kylin official website is online!
Benefit of the end of 2021 !After two years, the long-awaited brand new and upgraded official website (https://www.ubuntukylin.com/index-en.html) of Ubuntu Kylin is officially launched today!
The official website of Ubuntu Kylin is the main Internet channel for displaying all the information of the Ubuntu Kylin brand, and it is also the main platform for the most authoritative release of products and information.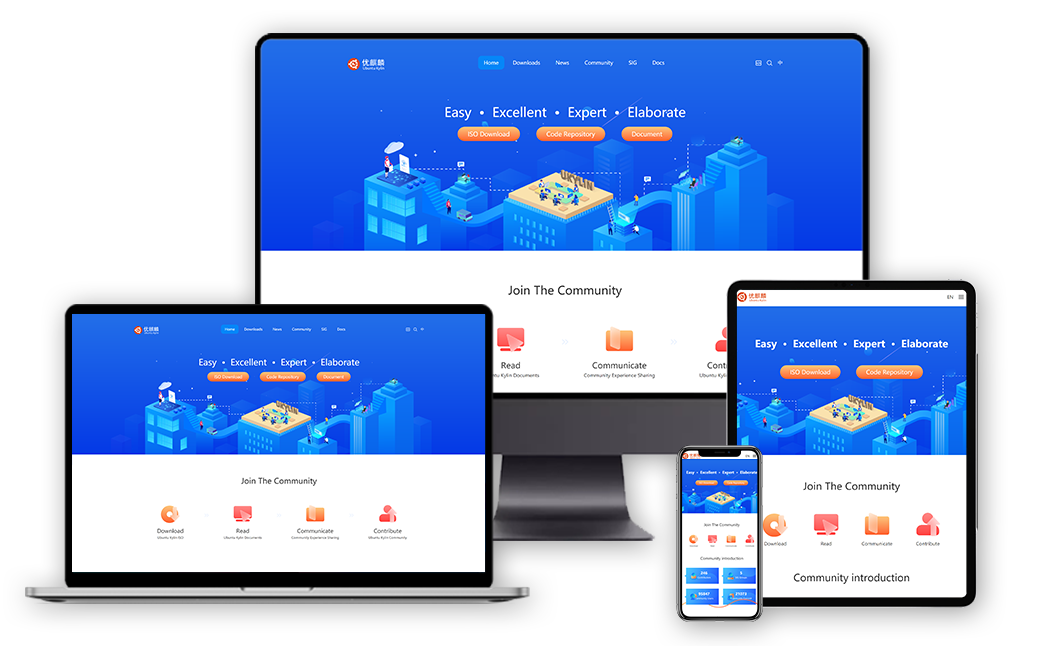 Dedicated to build, compatible with equipment
The new version of the official website supports devices such as computers, tablets, and mobile phones, and is compatible with many mainstream browsers such as Google and Firefox.Enthusiasts can easily access the website no matter what device and browser they use.
Gorgeous transformation, layout reorganization
On the basis of the original content, the new version of the official website has re-planned the layout, and comprehensively displays the content of six major sections including homepage, download, community, documentation, SIG, news, etc., to help everyone fully understand Ubuntu Kylin information.
Quality presentation, visual enjoyment
Ubuntu Kylin official website is designed based on the main color of the brand, with a simple but not easy blue style and responsive interactive layout, allowing enthusiasts to enjoy the ultimate visual experience while browsing the official website content.
Easy browsing, bilingual switching
The official website of Ubuntu Kylin not only supports Chinese but also English. In the future, it will also provide more international languages, striving to provide a better browsing experience for enthusiasts all over the world.
Since the website has just launched, there may still be some shortcomings. You are welcome to give us more feedback and suggestions. You can send an email to contact@ukylin.com.
Of course, if you also want to join the design and development of the next version of Ubuntu Kylin platform, you can contact us from now on and look forward to your joining!