Speech and interview
speech time:
14:10, November 2, 2013
Speech topic:
introduction about development and characteristics of Ubuntu/Ubuntuklin 13.10 version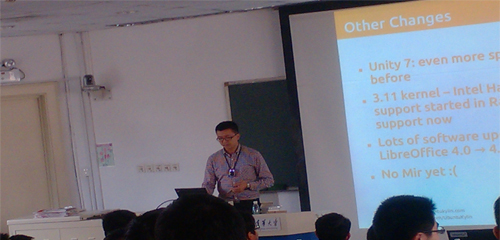 Brief introduction of distinguished guest
Jack Yu, Doctor of Computer College of National University of Defense Technology. He has been devoted himself to creating a official Ubuntu derivative that is suitable for Chinese users to promote integration Chinese Open source culture with international community. At present, he is the technical committee member in the CNN open source and innovation laboratory, responsible for the development work of Ubuntukylin project.
Brief introduction of report
Review the development process and main work of Ubuntukylin 13.10 version and introduce new characteristics and fun brought by Ubuntu 13.10/UbuntuKylin 13.10
---
Interactive time:
14:25 November 2, 2013
Interactive content:
Jack introduces guests and invites participants to do a lottery for the audience and announce winners in the Wallpaper contest.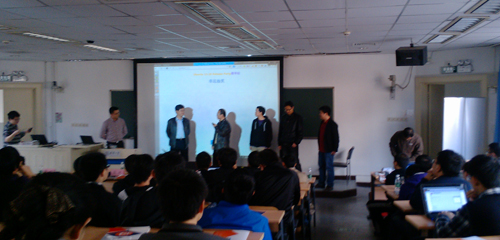 Songhai Liu:assistant president of the kingsoft company
Mr. Liu said:It is a pleasant cooperation between kingsoft and Ubuntukylin. And, furthermore, practical work in the further is the most important.
Yang Lei: the director of desktop department in sogou company
Yang Lei showed: I hope Sogo can cooperate with Ubuntukylin and allow users to use Sogou input of Linux version.
Bin Zhang: the marketing manager of Youdao Dictionary in NetEast.
Bin Zhang expressed: It is regrettable that Youdao Dictionary has not Linux version and I hope we can cooperate with community to make users use Youdao Dictionary with Linux version of UbuntuKylin 1404
Xiaowen Wang:联想中国ThinkPad Development Lab SESM & SW Manager
Xiaowen Wang said: ThinkPad wishes to cooperate with Ubuntukylin to help local enterprises
Zhang Fan/ Chen Xu: the Technical director of Kingsoft disk
Chen Xu said: Ubuntukylin is a human and clear desktop operating system and he praises UK team is full of executive force and the spirit of hard work!
---
Speech time:
14:50 November2, 2013
Speech topic:
Internet age of input method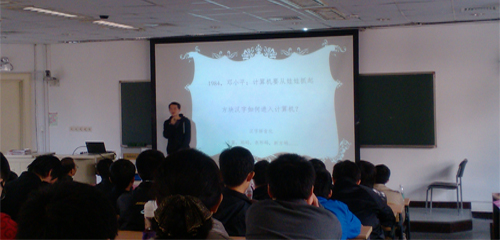 Brief introduce of distinguished guest
Yang Lei, Desktop Department Director of Sogou company (Ph.D). He entered Tsinghua University in 1996 and then received a Bachelor's degree in mathematics and a PhD in computer. He entered R&D center of Sogou (the predecessor of Sogou Company), started up the project of input method and wrote down the first line of code in October 2005. He successively held the posts of development engineer, technical manager, and product manager of Sogou Input and is a director now that is responsible for Sogou Input and technical product work of Sogou Input in Sogou mobile phones.
Brief introduce of speech
It is indispensible to use the Chinese input method for a perfect Chinese operating system. Sogou Input has been devoted to provide an efficient input experience for Chinese users. Today, we will share the background and design concept of Sogou Input and discuss together how to make products of high quality in internet age. We look forward to cooperating with the Linux developers to make the majority of Linux users can enjoy the excellent experiment of Chinese Input in Sogou Input.
Q&A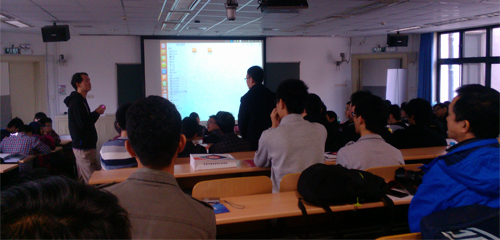 ---
Speech time:
15:10 November 2, 2013
Speech topic:
college teaching and scientific research with open source software
Brief introduce of distinguished guest
Chen Yu, PhD, associate professor of computer science department and deputy director of the operating system and transparent calculation research center of information and technology institute in Tsinghua University. Main research direction: performance optimization of operating system and security of operating system etc. he sponsors embedded hardware simulator of SKYEYE open source and participates in some major projects such as national natural science foundation of China, the nuclear high base and 973863 project etc. he also published more than 60 papers.
Brief introduce of report
To show the close relationship between open source and university; to introduce and analyze use cases in the teaching and research field of Tsinghua University and MIT for the open source.
Q&A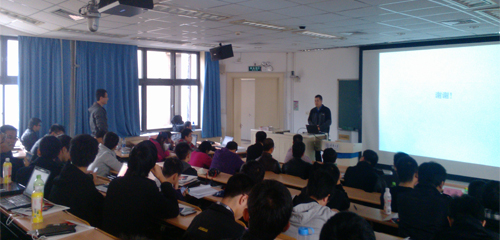 ---
Have a rest(10 minutes)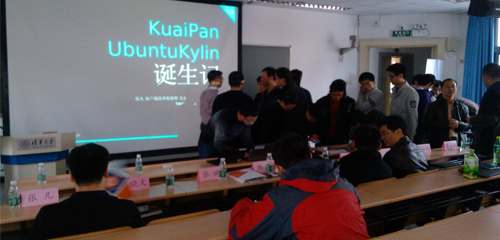 ---
Community story sharing and personal speech
Speech time::
16:00 November 2, 2013
Speech topic:
the birth of Kingsoft disk
Brief introduction of distinguished guest
Chen Xu, entered Kingsoft in 2008 and now he is a product manager of Kingsoft Cloud and a common person at the DB-disk and ubuntukylin disk projects.
Report in brief
Mr. chen introduced derived history of disk clients and told the disk use cloud storage to make pictures and video display on every screen. The close synchronization service made cloud storage enter into users' work and life. I hoped disk for Ubuntukylin can grow rapidly combined with the UK team's experience in open source community.
Q&A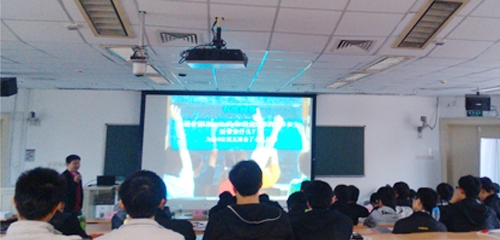 ---
Speech time:
16:30 November 2, 2013
Speech topic:
community stories I know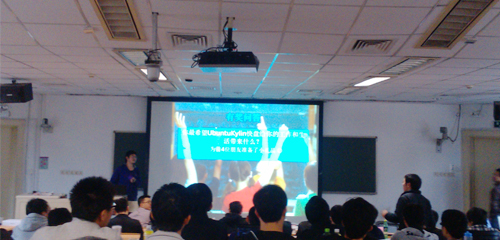 Brief introduction of distinguished guest
Aron Xu, senior enthusiast of the open source software, developer of the Debian/Ubuntu project. He participated in Chinese translation and system integration of the open source software in the long term and had the rich experience in community work.
Report in brief
Aron Xu shared some experience in Ubuntu development, especially development experience in fcitx & ibus and the attitude in community activities. He also explained some related questions for the enthusiasts and transferred some concept of the open source.
---
Speech time:
16:50 November 2, 2013
Speech topic:
a way to openstack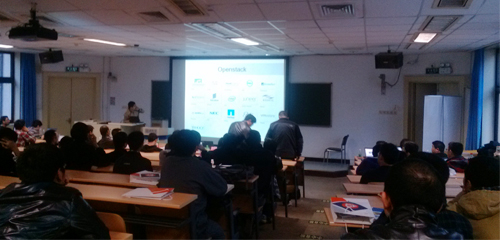 Brief introduction of distinguished guest
Li Yinjun, now he works at the supercomputing center in National University of Defense Technology and engaged in cloud computing. He started to contact Openstack and community since 2011.and devotes himself to the large-scale deployment tuning, development and research of Openstack now to make active contributions to the community, He has been contributed almost 400 lines code to many core Openstack components. Also, he praises highly the open source and thinks open source is a lonely but happy praictice
Report in brief
To talk briefly about the impact on ecological environment of openstack; to introduce wonderful stories from joining openstack community to familiar with rules to contributing code
By 17:12, Ubuntukylin release party concluded successfully. Respective representatives of major manufactures made wonderful reports in the party. They are willing to join open source community to contribute themselves and also had a heated discussion with enthusiasts. The release conference achieved good results, meanwhile, the youke enthusiasts wish Ubuntukylin to release successfully and achieve better results.