Getting Start with Ubuntu Kylin 18.04
Hello, everyone!Since the first long-term release of Ubuntu Kylin 14.04, we've received your growing attention on the os. For better user experience, now, we will try to give you a starting point for Ubuntu Kylin operating.

Power on
Push the power button to power on the monitor and the computer.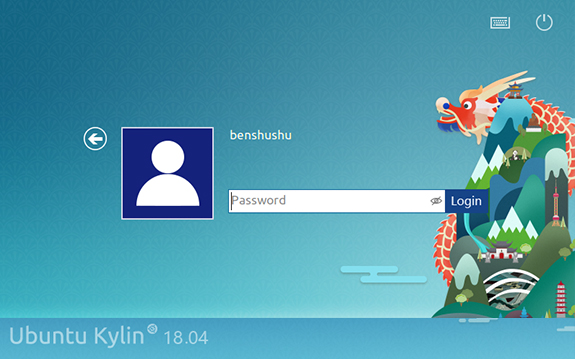 Now, the Ubuntu Kylin login screen comes into view. If you have installed multiple systems, you will first see the grub and choose Ubuntu Kylin to enter it.
If you've set a password during the installation process, you will be asked for the correct password to login. You can see the picture above. Besides the password box, there are version, onboard, background and power button on the screen.
Desktop 
In computer science, desktop is the area of the screen in graphical user interfaces against which icons and windows appear. Ubuntu Kylin team firstly developed UKUI on Ubuntu Kylin 16.10. UKUI is a desktop environment, a continuation of Mate. It is under active development to add support for brand new start menu, control center, panel, themes and icons while enhancing your desktop experience.
Desktop Background
Desktop background is a picture on your desktop. Every wallpaper in Ubuntu Kylin is delicate and pretty. Besides several well-designed wallpapers, we also pick some pictures from users' contributions. The wallpaper can be adjusted by various sizes and resolutions, such as 1024x768, 1440x900, 1366x768, 1280x800 and so on.
Right-click the desktop, then select "Change desktop background" to choose a picture worthy of gracing your desktop background.
Icons

The icons are used in the panel menu, and in nautilus and other applications, to represent the different applications, files, directories, and devices. By setting the shortcut, you can open the application rapidly.
How to add and delete the icons? First, you can drag the application directly from the start menu or panel to the desktop. And then, click and choose a icon on the desktop and press the Delete button.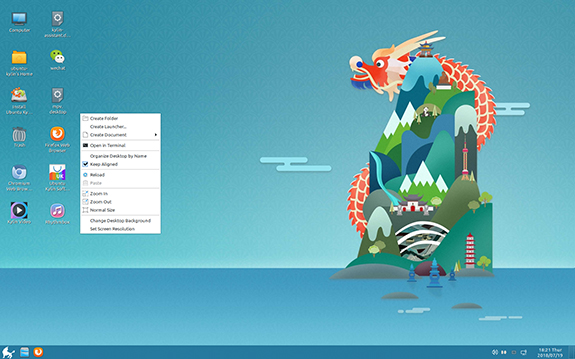 Panel
The most remarkable feature of Ubuntu Kylin 18.04 is the panel, on the bottom of the screen with applets such as a Menu Bar, Taskbar, Notification Area and Clock. To cater to the needs of China users, Ubuntu Kylin combines former upper and left panels into the bottom one.
New features are below:
Modify the location of the Panel

Modify the icons of the panel

New function: Resetting the panel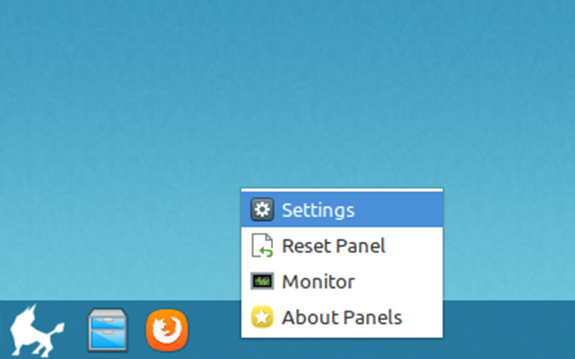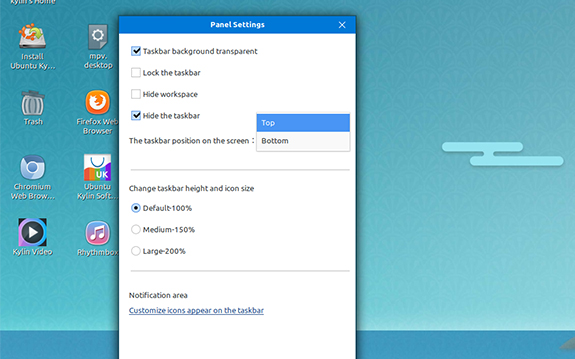 Start Menu

Start menu is on the left-bottom of the screen and uses Ubuntu kylin's icon. It can search and start your programs quickly and make your work comfortable. You can open it by pressing super button.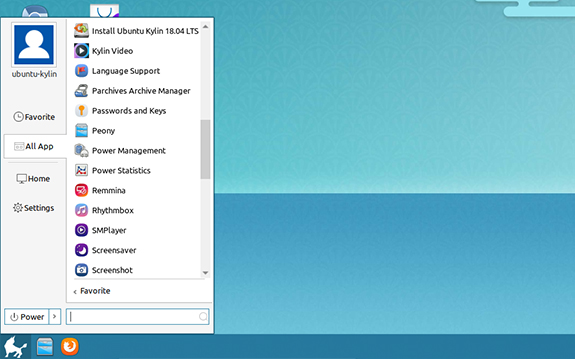 Power off

Ok, it's time to say goodbye. But you can still enjoy the system after reading the article. Remember to save important applications and documents before shutting down the computer. Then, you can click Start Menu – Shutdown and select Shutdown.
Also, you can enter shutdown in the terminal.