Stability continues to increase, Ubuntu Kylin 19.10.1 Released!
Ubuntu Kylin, the open-source OS, through the research and development of user-friendly desktop environment and application software for specific needs, provides more stable and easy-to-use Linux open-source desktop operating system for global users.

The released version of Ubuntu Kylin19.10.1 is the updated version, the kernel version is upgraded to 5.3.0.19.22, and the Firefox browser is upgraded to 70.0. Some underlying libraries are updated as well. The icon theme settings and font advanced settings are added in the control panel . At the same time, the problems fed back by users through forums, wechat, official website and other platforms are fixed.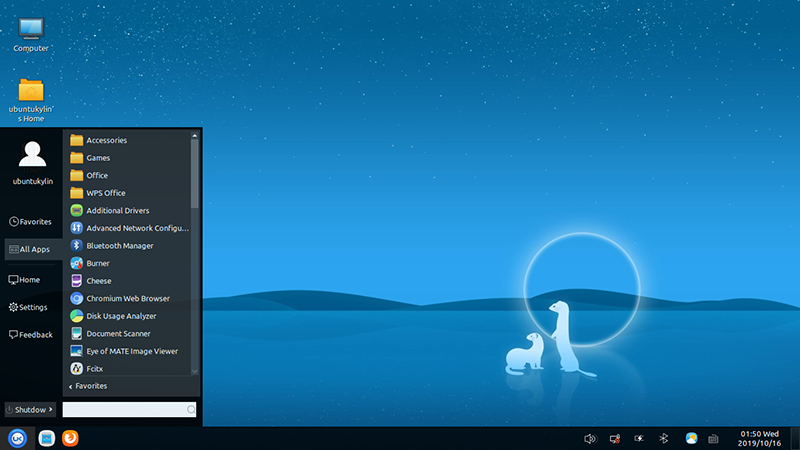 Icon Theme Settings
The control panel adds the function of automatic search system icons, which makes it easy to customize your own desktop theme icon, making your desktop full of personality.
Font Advanced Settings
Advanced font settings are also added in the control panel. The functions are very similar to the font settings of Kylin assistant. You can quickly set or switch font, font size and font type, or restore the default settings with just one click.
More optimizations and updates are as follows :
Optimized system startup time;

Fixed the "at SPI bus launcher does not respond" issue when shutting down / logging off;

Fixed the problem of wrong version display in boot character interface;

Update multilingual translation;

Optimized network plugins;

Control panel adds new icon theme settings;

Control panel adds new font advanced settings;

Implementation of control panel by replacing QT native singleton mode;

Realization of screen offset algorithm after double screen dragging of control panel;

Control panel adds new function of dynamic get theme settings by system.
At present, the updated version of Ubuntu Kylin 19.10 has entered four major open-source mirror sites. Users of Ubuntu Kylin and other Linux fans can download and install it online through the mirror site or the official website of Ubuntu Kylin ( https://www.ubuntukylin.com/downloads/show.php?id=451&lang=en ). Users who have installed the official version of 19.10 can also update to the upgraded version through running command in the terminal :
sudo add-apt-repository ppa:ubuntukylin-members/19.10
sudo apt update
sudo apt upgrade