Ubuntu Kylin 19.10 Final Now Available for Download!
In October 18th, 2019, we glad to announce the official release of opensource operating system Ubuntu Kylin 19.10(Eoan Ermine). In this version, we have integrated new software center and other applications. In order to provide a better experience for users, a series of improvements are made on system kernel, basic service, desktop environment and specialized Apps. In addition, other opensource distribution such as Ubuntu 19.10、Lubuntu 19.10 and Ubuntu Mate 19.10 are released in the same time.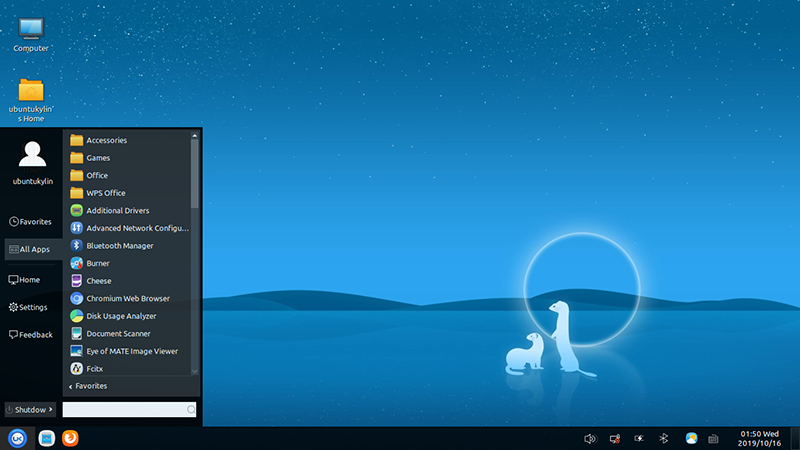 In this release, Kylin Software Center is upgraded with fabulous startup animation and clear navigation which make it easier and smoothier to operate. Practical and powerful as always.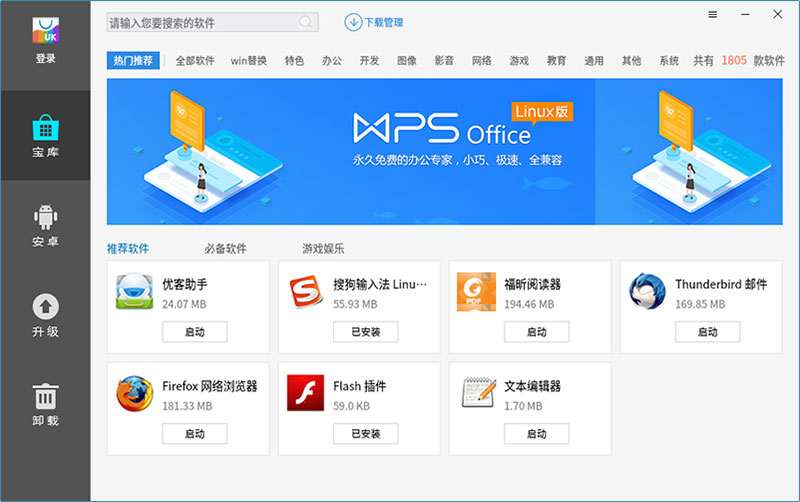 About kernel, UbuntuKylin 19.10 ships with v5.3 based Linux kernel updated from 19.04. The new kernel adds a variety of new hardware support inherited from upstream, including:

Adds support for Intel Speed Select, a feature only supported on specific Xeon servers.

Adds initial support for the AMD Navi GPUs in the amdgpu driver, these are the new AMD RX5700 GPUs that just recently became available.

Adds support for Zhaoxin x86 Processors.

Adds utilization clamping support to the task scheduler. This is a refinement of the energy aware scheduling framework for power-asymmetric systems

The 0.0.0.0/8 IPv4 range will be accepted by Linux as a valid address range, allowing for 16 million new IPv4 addresses.

Add HDR Metadata Parsing and handling in DRM layer and amdgpu and i915. Support Intel HDR display.

Nouveau recognise TU116 chipset.

Add Apple SPI keyboard and trackpad driver.

Improve RISC-V by support introduce huge page and add an Image header that boot loader can parse.

EXT4 filesystem faster case-insensitive lookups.
For more features, refer to:https://kernelnewbies.org/Linux_5.3.
In desktop environment, due to user's feedback and suggestions, added the function to connect hidden wifi, fixed a series of system bugs to enhance the users experience as well: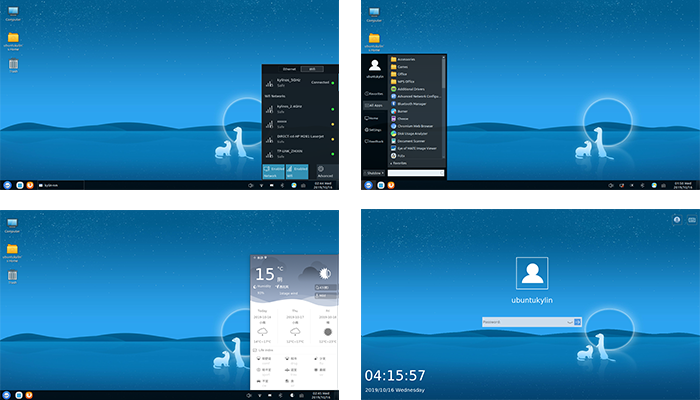 (1)Start Menu
Fix the bug that timed shutdown didn't work.

Update a part of translations.

Add the support for Kydroid.
(2)Taskbar
Adjust the unreasonable layout when opening multiple applications.

Update the copyright in about dialog.
(3)Notification area
Fix the wrong position of tray application's tooltips.

Solve the problem of memory leak.

Adjust the theme.

Fix the wrong icon size after resizing panel.

Update the natinoal holidays arrangement.

Fix calendar display error.

Fix the size of the calendar changes when mouse is hovering over it.

Solve the problem that the calendar position not displayed correctly in extended screen.
(4)Login program
Didn't show fingerprint login button when there is no device.

While only one device inserted, the current device will be selected by default.

Fix the display error when switch user.

Fix the bug that can't switch user when there were multiple users.
(5)Screensaver
Fixed an issue where multiple lock screens were initiated and password could not be entered when username was too long.

Fix the problem that lock screen is incomplete and may be stuck in dual screen mode.

Fix the wrong background when automatically switch desktop wallpapers.

Fix the problem of the input method dialog will be displayed over the lock screen.

Fix the bug that unbale to enter password on screensavor occasionally.

Automatic screen lock when switching users.

Add support for Kydorid.
(6)Window manager
Fix crash when switching display.

Solve the conflict with gsettings-desktop-schemas.
(7)File manager
Fix crash when switch to listview mode.

Fix the problem that the file manager settings need to manually refreshed to work.
(8)Theme
New wallpapers and system theme.
In specialized applications, a full function upgrade and bug fix session is applied to optimize stability and practicability. Main updates include:
(1)Kylin Software Center
New startup animation and optimized animation effects.

Accelerate loading of the main interface after update the source.

Fix the wrong title at startup.

Add timeout judgment for each interface.

Add a database access lock to resolve multi-threading problems.

Optimize the function of source address addition.

Optimize mailbox format judgment.

Fix that the newly installed software is not recorded in "My Software".

Update the UI.

Add support for Kydroid.
(2)Kylin Assistant
Add an error page for each entry of system information.

Integrated with control center, eliminating redundant functions.

Update multiple languages.
(3)Kylin Weather:
Support automatic positioning.

Fix a typo.

Get Icon from system icon themes.
(4)Kylin Video:
Support interface scaling.

Add equalizer and filter for audio

Remove the useless code.

Add remote controller dbus.
(5)Kylin Network Manager:
Add the function of connect hidden wifi.

Refresh immediately after plugging in/out the network.

Adjust the height of network list when click it.

Refresh immediately when wireless network updated.
In customized applications, the new WPS implements reading PDF files and inserting formulas. Sogou input method supports import and export of offline thesaurus, and more feature updates guarantee your best work experience:
(1)Kingsoft WPS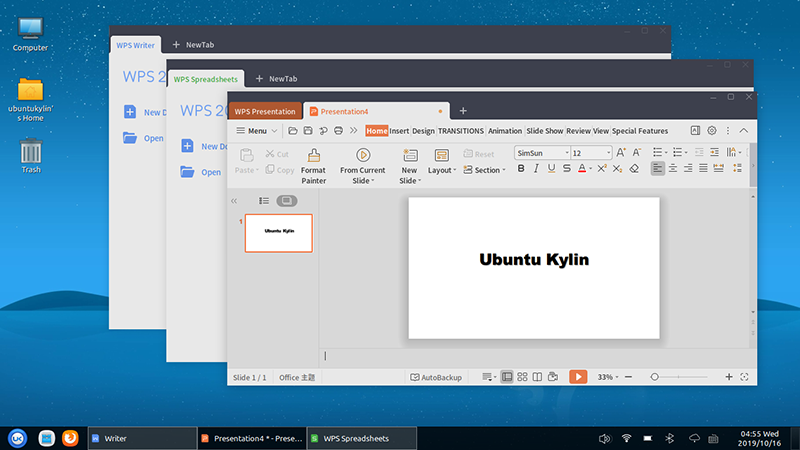 Support formulas insertion and editing.

Support inserting DOC/DOCX/XLS/XLSX/PPT/PPTX files as OLE objects.

Support Document encryption through accounts;

Optimize printing settings to solve problems of inconsistency between real printing effects and settings.

Optimize Printing Efficiency.

Fixed a bug that vectorgraph changed to bitmap when output to PDF.

Fixed a bug of typeset that area is error in character measurement.

IO in DBF format is encoded by GBK.

Support guessing coding when open DIF file.

Optimize the Opening Efficiency of XLSX Files.

Optimize Calculation Efficiency.

Fixed a issue that the projection has no top setting when open PPS/PPSM/PPSX projection format file.

Fixed a issue of pop-up black box when PDF is projected by slide mode.

Fixed a bug that WPS PDF crashes when font loading failure.
(2)Sogou input method
Add export, import, and clear function of Windows/Linux offline thesaurus.
Welcome to download Ubuntu Kylin 19.10 LTS, starting to get involved with Ubuntu Kylin: http://www.ubuntukylin.com/downloads/show.php?id=451&lang=en. If you have any problems during the use of Ubuntu Kylin, please tell us through the feedback program in the operating system or forum feedback: http://forum.ubuntukylin.com.For more information, please add our WeChat: scan the QR code below or searching wechat subscription "Ubuntu_Kylin".